Site Updated November 7, 2018
Welcome!
We are a group whose common interest is the Model T Ford automobile. Our Club's purpose is to promote the preservation and restoration of antique automobiles, particularly the Model T Ford.
We hold our monthly meetings the first Thursday of each month at 7:30 pm where club business, swap meet, technical programs, parts information, and restoration questions are traded.
Automobile Tours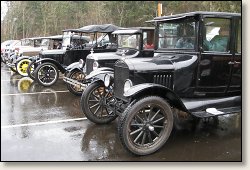 The club sponsors about thirteen tours a year. Driving the T's around the region to interesting destinations, including parades and a visit to a pumpkin patch are just a few of our tours. The thrill of driving a Model T is an experience you will never forget.
Model T ownership is not required for membership!
Our Members
Our members are interested in helping each other with technical assistance and locating parts to keep Model "T's" on the road. A Fall Banquet and Christmas Party are held each year.

Contact Us
Rose City Model T Club
P.O. Box 3901
Portland, Oregon 97208
Members please note: Send dues directly
to the membership chairperson (
see form here
).