Site Updated May 31, 2023
Welcome!
We are a group whose common interest is the Model T Ford automobile. Our Club's purpose is to promote the preservation and restoration of antique automobiles, particularly the Model T Ford.
RCMTC April Tour Updated 03/30/2023
Sunday April 23, 2023
by Tom Winterrowd
UP and DOWN Tour on Vertical Avenue
Meet: 9:30 AM, Oak Grove Fred Meyer on 99E in front of VooDoo Donuts.
Leave: 10:00 AM
Tour to Oregon City and ride the only Municipal Elevator in Oregon. Tour will end at a nearby coffee shop for coffee and socializing.
Portland Swap Meet 2023 Updated 9/19/2022
Marche 31, April 1 and 2 2023


Vendors only-setup
- Thursday March 30th 8am-7pm


General Admission Hours
- Friday 7am-7pm
- Saturday 7am-5pm
- Sunday 8am-1pm


General Admission Cost
- Friday & Saturday $10 per day
- Sunday $5 (ladies are free)
- All days (children under 12 are free)


Location
- Portland Exposition Center
2060 N Marine Drive


Take I-5 exit 306B and follow signs to parking at Portland International Raceway. A free shuttle bus visits off-site parking areas.

Note: There is no parking at the Meadows lot anymore. All parking (with free shuttles) is from the international raceway.


Public Transportation
- Trimet's MAX light-rail goes directly to the Portland Expo Center


Christmas Party 2022 Update 9/19/2022
Chickasha Swap Meet 2022
By Keith Townsend

I was able to attend the Chickasha Pre-War Swap Meet in Chickasha, Oklahoma this year for the first time and plan to return again next year. Covid-19 did no favors to swap meets across the country beginning in 2020 and current high cost of fuel has been a hindrance for 2022. According to those who know, there were probably only half the number of the vendors in attendance compared to years' past. Although the vendors were few, the stuff was good! You will not find any chrome mag wheels at this Pre-War Swap Meet, but you will find booth after booth and table after table of rusty (and restored) gold! Wheels, rims, engines, bodies, fenders, chassis parts, you name it! The vast majority of parts were Model T and A, but there was a lot of Buick, Dodge, Maxwell, Overland, and other parts as well. And prices were quite reasonable.

Since Yvonne and I flew from Portland I only bought a handful of small items, but I had the opportunity to talk with a number of people who I have befriended over the years. Some of whom I knew were going to be there, others who I was surprised to meet, and a few who I had hoped to see, but the stars just did not align. Oh well, next year.

There were a couple of nice cars for sale:



1926 Model T runabout restored $10,500;



1910 Model T touring #24472 older restoration $21,500



1913 Model T touring #186235 rough condition $8,750.



This Ruckstell reportedly sold for $300.



All in all, it was worth the trip. Nice facility, nice people, nice amount of inventory, and no traffic jams! Since we have a daughter who lives only about 45 minutes away, I plan to go back next year!
President's September 2022 Message
Greetings RCMTC Members,
Please Get your Flu Shots and Pneumonia Vaccine!!! And while we are at it remember to review when you had your last Tetanus Shot! Here is another thought. Shingles Vaccination! Too many folks needlessly suffer by not taking advantage of receiving these vaccines and unfortunately some actually die.

These vaccines are readily available in most shopping centers with pharmacies and almost always covered with insurance. We need to stay healthy during our time out for pandemic and ready ourselves for strong recovery to our hobby and return to our club functions!
Cordially,
Patrick D. Lawrence
Monthly Meeting Location

Clackamas Community Club
15711 S.E. 90th Ave.
Clackamas, Oregon
Get a Map

Follow Us on
We hold our monthly meetings the third Thursday of each month at 7:30 pm where club business, swap meet, technical programs, parts information, and restoration questions are traded.
Automobile Tours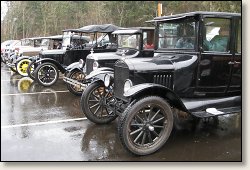 The club sponsors about thirteen tours a year. Driving the T's around the region to interesting destinations, including parades and a visit to a pumpkin patch are just a few of our tours. The thrill of driving a Model T is an experience you will never forget.
Model T ownership is not required for membership!
Our Members
Our members are interested in helping each other with technical assistance and locating parts to keep Model "T's" on the road. A Fall Banquet and Christmas Party are held each year.

Contact Us